Caitlin (Cate) M. Bullman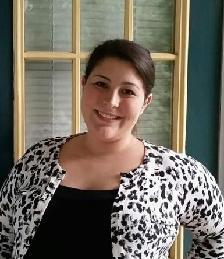 Team Fundraising Goal: $4,000.00
Total Number of Gifts: 9
Total Value of Gifts: $675.00
Please bookmark this page.
Recent Donors
Katherine Batti
Leonard and Adrian Batti
Edward L. Bullman
Olivia Hubert
The SPS Family
The Davison family
Stephanie Wajsman LIOB
Erin Davison
Anonymous

Full Donor List
*Please note that if you anonymously donate to this web page, your name will not be shown on the list of donors that is displayed on this web page. However, the person who set up this web page may be notified of your donation, although the amount of the donation will not be provided.
Caitlin M. Bullman ROCK HILL - Caitlin M. Bullman, 25, a talent acquisition associate in Charlotte and resident of Rock Hill, SC, died unexpectedly Sunday, Dec. 7, 2014, after being hospitalized for postpartum complications after giving birth to her daughter on Saturday, Nov. 29, 2014.

Caitlin was born Dec. 24, 1988, in Oakland, CA, at the Oak Knoll Naval Hospital. She graduated from Notre Dame High School in Salinas, CA, in 2007 and the University of South Carolina in Columbia, SC, with a Bachelor of Art in Psychology in 2012.

Caitlin attended Madonna del Sasso School through the eighth grade. While growing up in Salinas, she became an accomplished dancer in several disciplines that included ballet, tap and Irish step. While attending Notre Dame High School, Caitlin assisted with instruction at the Salinas School of Dance. Caitlin was actively involved in her community throughout her life. She cheerfully participated in community service projects in elementary and high school, with the Salinas School of Dance, at the University of South Carolina with Phi Mu Sorority and most recently, as a member of the Women's Club of Ft. Mill.

She enjoyed travel, especially to Charleston, SC, where her fianc', Brooks, proposed to her. Caitlin and Brooks enjoyed good food and cooking together. Most importantly, they enjoyed spending time with friends and family and knew how truly blessed they were.

Caitlin enjoyed her work as a talent acquisition associate at Collabera and was a valued employee and coworker.

Caitlin was a happy and devoted mother who was looking forward to a happy, full life with her new family.

Caitlin is survived by daughter, Josselyn Tatum Bullman; fianc', Brooks Ussery; fianc''s parents, Donna and Brian Lentell; parents, Todd and Frances Bullman; brother and sister-in-law, James and Juliann (n'e Gomez) Bullman; paternal grandmother, Sue Bullman; and uncle and aunt, Theron and Piroon (n'e Tosakul) Bullman. She was predeceased by maternal grandparents, James and Margaret Berry, and paternal grandfather, Port Nicholas Bullman.

She was cremated in Rock Hill, SC, on Friday, Dec. 12, 2014. A celebration of her life is planned for the future. In lieu of flowers, please make a donation to St. Jude Children's Research Hospital.
---
Does this page contain objectionable content? Please inform the system administrator.